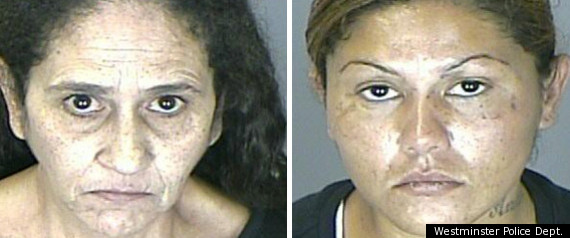 Loool!!!Mother and daughter rob a bank? This one is funny.
This is how huffing post reported the gist........
bomb inside a duffel bag. Police say she grabbed an undisclosed amount of cash and ran out of the bank into an SUV in waiting, allegedly driven by her mother, 53-year-old, Norma Sisneros.
Unfortunately for Guerrero and Sisneros there was an undercover officer working the area on a different case and spotted Gurrero running out of the bank into the SUV,
7News reports
.
The vehicle description was reported and officers spotted the SUV on Broadway near 75th Avenue. Colorado State Patrol officers and Adams County deputies pulled the SUV over and arrested the driver,
according to 9News
. Later, the passenger was found in a nearby apartment complex laundry room and was arrested.
Police recovered the bank's money in that laundry room,
Fox31 reports
. John Paez, a resident of the apartment complex that says he knew Guerrero and her mother said he let Guerrero stay with him and his wife after she got out of the hospital about a week ago. He even overheard Guerrero talking about robbing a bank, but didn't think she was serious. Paez told
Fox31
:

She's been having money problems. She's got no place to go. She's got a very bad infection on her legs and stuff because of spider bites. I can't believe she'd do a bank robbery.